---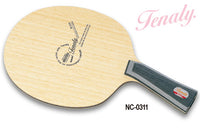 Tenary grip/attack type that is easy to drive!
Five plywood with ultra-thin carbon.
Control performance is high and it is easy to drive.
It can also be used as a pen holder grip.
Category- Tenary
Plywood Composition- 5 sheets + 2, wood, Inner Type Ultra-Thin Carbon
Size- Blade: 160 x 148mm, Grip: 93 x 21mm
What is Tenary? "Meaning handmade"
The name comes from the fact that you can hold the racket by hand and hit it naturally.
With this style, the racket is an extension of the arm and palm, so the power is well transmitted to the racket. (becomes like a part of the body)
It can be held naturally in this way, so it can be used by children, beginners, and advanced users, and brings out various possibilities.
Country of Origin- China
| | | | |
| --- | --- | --- | --- |
|  Speed | Touch | Weight | Thickness |
| Mid | Middle | 85±g | 5.6mm |
One size fits all