---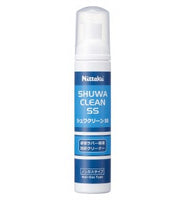 Please use a care sponge or a clean sponge for wiping.
* Freon gas is not used.
NITE * has evaluated that the "surfactant" used in this product can effectively remove the new coronavirus.
* NITE = National Institute of Technology and Evaluation of Products
How to use
1. 1. Shake the container well before use.
2. Stand the can and put an appropriate amount (ball size) directly on the rubber surface.
3. Wipe gently while spreading the foam with Nittaku Clean Sponge.
4.  Please use after the rubber surface has dried.
Volum- 90ml 
Made in Japan
One size fits all